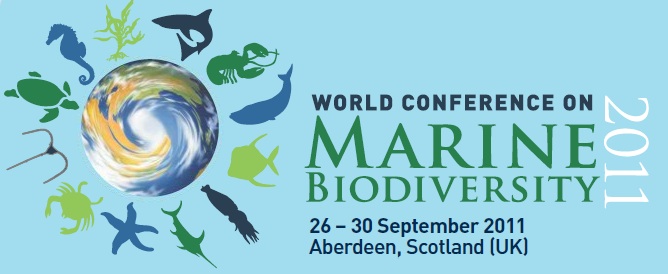 The second triennial World Conference on Marine Biodiversity begins next week in Aberdeen, Scotland, and your dedicated SeaMonster reporter will be on the scene. We will be trying something new and experimental (for us, at least) — pseudo-live blogging from the Conference site, covering late-breaking news on marine research advances, marine conservation, fantastic new animals, new global initiatives, quality of local single-malts, grainy videos of distinguished marine biologists attempting karaoke late at night. Some of those topics at least.
Anyway, keep your eyes on the Monster.
And for all you tweeps (did I actually use that word?) out there, I invite you to monitor my twitter feed @JEmmettDuffy, from which I plan to report during the conference. You can also follow the twitter feed from the organizers of the conference at @WCMB_2011. Finally, the twitter tag for the conference is #WCMB2011.
Sea Monster coverage of the conference begins at roughly 0800 GMT+1 Monday 26 September.
Until then: Standing by . . .