Last week I was visiting FIU and talking with Lionfish guru Zack Judd when the topic of the Acropora range shift came up.  He and Laura Bhatti wanted to take me to do something fun on my last day in Miami.  So we decided on snorkeling off the beach on the world famous Fort Lauderdale strip to see one of the local coral reefs.  Seriously.  I was skeptical. First, because this is what the shoreline looks like:
Close up of a typical coastal habitat: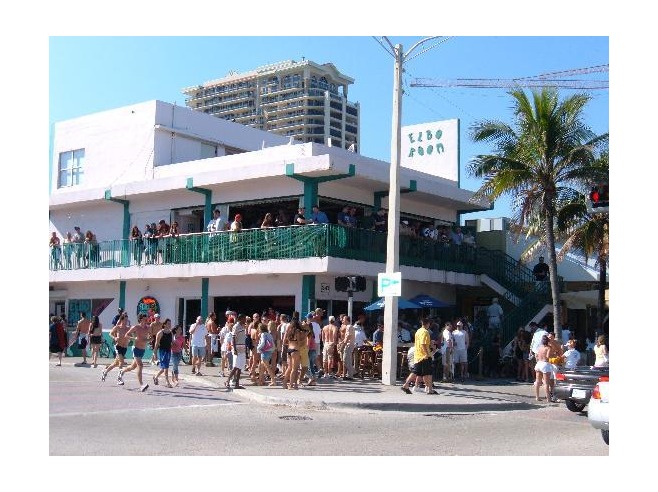 I had heard from my buddy Bill Precht that Acropora cervicornis (AKA staghorn coral) is moving northward along the Florida reef track in response to global warming. Precht and Aronson have a great paper in FEE (2004) "Climate flickers and range shifts of reef corals" that outlines all of this.
Though now rare throughout their Caribbean range (mainly due to white band disease), staghorn corals appear to be moving northward into Palm Beach County: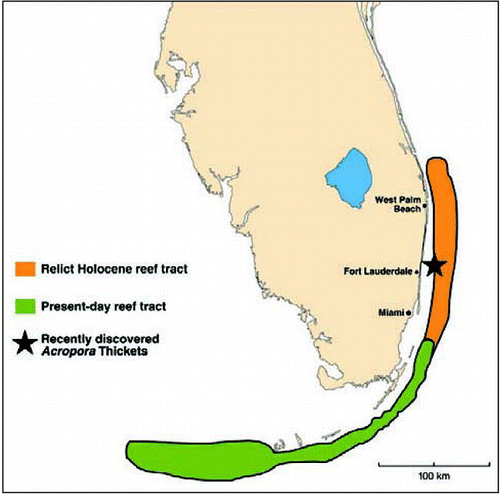 But still, I didn't think these new populations would be, literally, right off the strip, in pretty shallow water (3-5 m depth). And I didn't imagine how massive they would be. They were huge and the thickets were fairly thick, even though hurricane Sandy recently rolled over them. Check out these photos Zack took: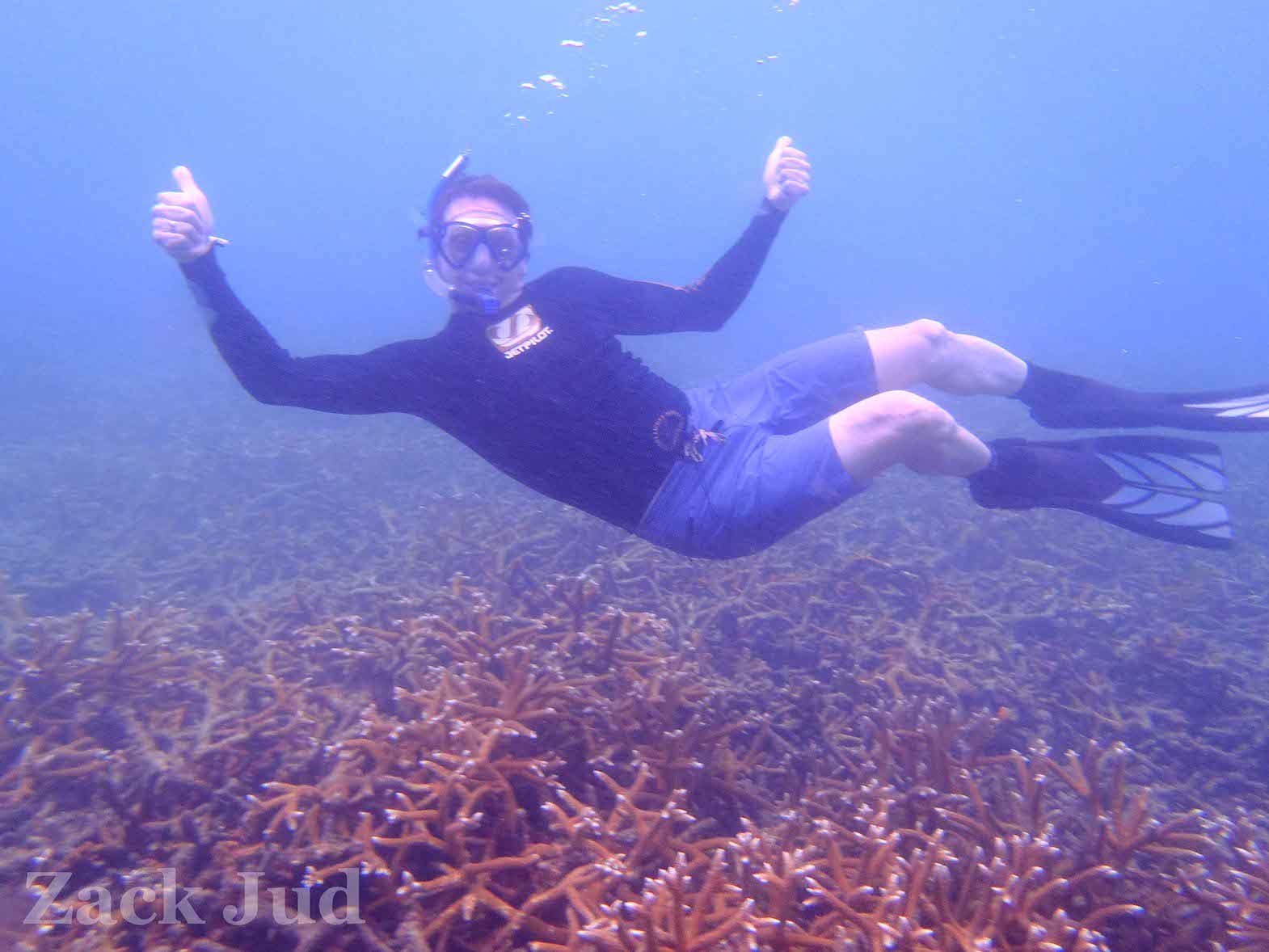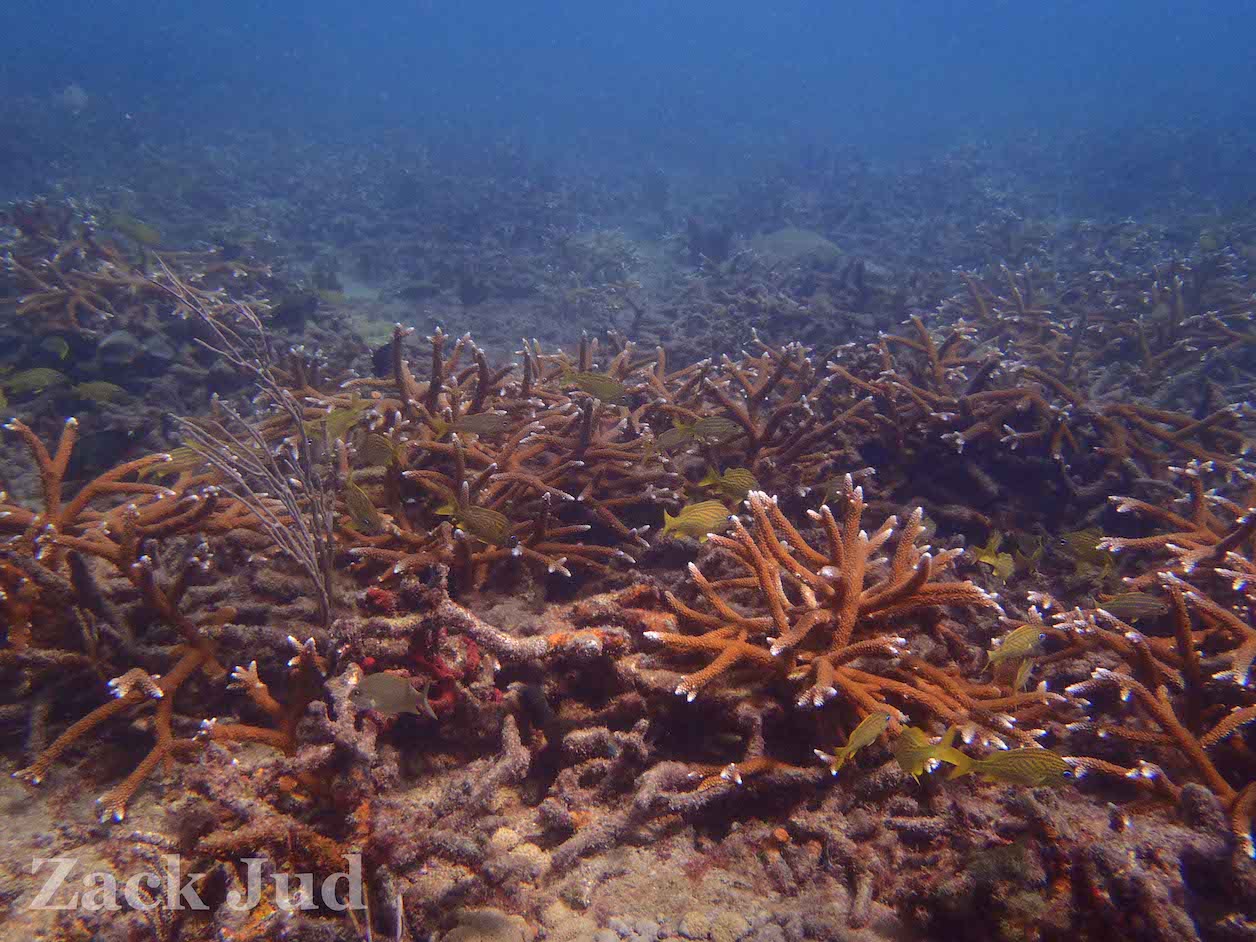 I know of other persisting or new staghorn thickets elsewhere in Caribbean (Bill and I documented one such example in Jamaica in 2003) but nothing quite this large. This is really good news. And it is in agreement with my growing sense that climate change is going to be more about change (range shifts, altered composition, new players, etc.) than outright destruction and extinction. We will have some of that, but the science to date suggests that species are changing their distribution and phenological timing in response to warming much more than they are simply dying out and going extinct.  They aren't giving up quite yet.
The case study also emphasizes the over-dispersion of many marine species and the huge role of abiotic factors, like temperature, in limiting distributions. (I think in general, we are way to concerned about connectivity in the ocean – there seems to be plenty of that.)
Listen, Acropora cervicornis and palmata for thousands of years were two of the dominant reef-building corals  in the Caribbean. Their populations were decimated regionally in the 1980s and their loss radically changed countless aspects of coral reef communities. Their expansion into South Florida does not mitigate that regional loss. It also does not mean future threats won't wipe them out. And they can't keep moving forever; there is no shallow water hard bottom habitat to settle on too far north of Florida and other environmental factors, like water sediment and nutrient load, would probably prevent colonization anyway. Range shifts will not save all species. Many, like Australia seaweeds will range shift into oblivion (e.g., the southern ocean). But I think it is still pretty cool to see species like this continue to bounce back. It gives me hope. And I think it should be teaching us some broader lessons.
One is that local impacts and local human population density in general has very little to do with the loss of corals. Look at the shoreline these corals are colonizing! There is nowhere in the Caribbean with such high urbanization and yet here they come. The presence of people per se is not driving coral loss or limiting recovery.